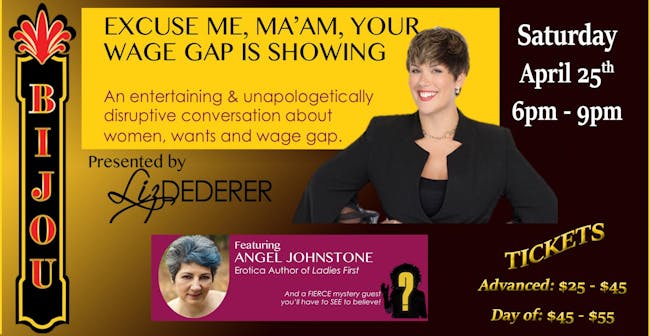 EXCUSE ME MA'AM, YOUR WAGE GAP IS SHOWING
$21.25 - $55.00
Postponed
AN ENTERTAINING & UNAPOLOGETICALLY DISRUPTIVE CONVERSATION ABOUT WOMEN, WANTS, AND WAGE GAP
PLEASE NOTE: This event is NOT for women only! We need our MANbassadors to be part of this change! Trust me, there's a big role you can play in this that you will definitely want to know about!
Excuse Me, Ma'am, Your Wage Gap Is Showing
We see it everywhere — corporations, government, entrepreneurship, sales jobs, even in the newest gig economy - women are earning less than their male counterparts across the board. It's not like anyone is rooting for it, so why is it still a thing?!
In this entertaining and unapologetically disruptive conversation starter opening with Erotica Author of Ladies First, Angel Johnstone will take us through a SEXperience of desire, doubt and how to demand our destiny! Featured presenter Liz Dederer will break down the social and emotional barriers that prevent women from showing power and speaking our value at work, in our businesses and all conversations around and about money!
As we examine the glacial pace of progress with women and money, we'll also take a curious look at what role we as women play in keeping the wage gap open.
Participants will be empowered with:The #1 mistake women make in conversations around and about moneyThe 2 words women use that keeps us held back - and what to do about itHow to increase your ask, every day, in every way3 simple strategies to disrupt the conversation so we close the wage gap for good!ABOUT THE FEATURED SPEAKER: Liz Dederer is known as the queen of #holyshifts! An advocate and champion for women's empowerment, Liz is passionate about helping women speak their value, own their worth and always show up with active confidence! As Founder + CEO of the business consultancy, Selling With Service, she works with consumer-driven companies to optimize their women's initiatives. Additionally, her organization develops sales training programs and has coached countless professionals and entrepreneurs to triple revenues and increase close rates to 80%. Liz has been featured on the International Women and Money Summit, University stages, sold-out conferences and countless podcasts and shows featuring her hilariously provocative talk, "Excuse Me, Ma'am, Your Wage Gap Is Showing," as well as her less sassy, but equally entertaining sales training on "The Currency of Conversation." Always one to give back, she has lent her expertise to non-profits the University of Hartford's Women's Entrepreneurial Center, Women's Business Development Council, the Women's Mentoring Network, and was recognized by the eWomenNetwork of Connecticut as the 2016 Femtor of the year. For speaking inquiries, email Hello@SellingWithService.com >> For upcoming speaking dates and venues, visit www.SellingWithService.com/events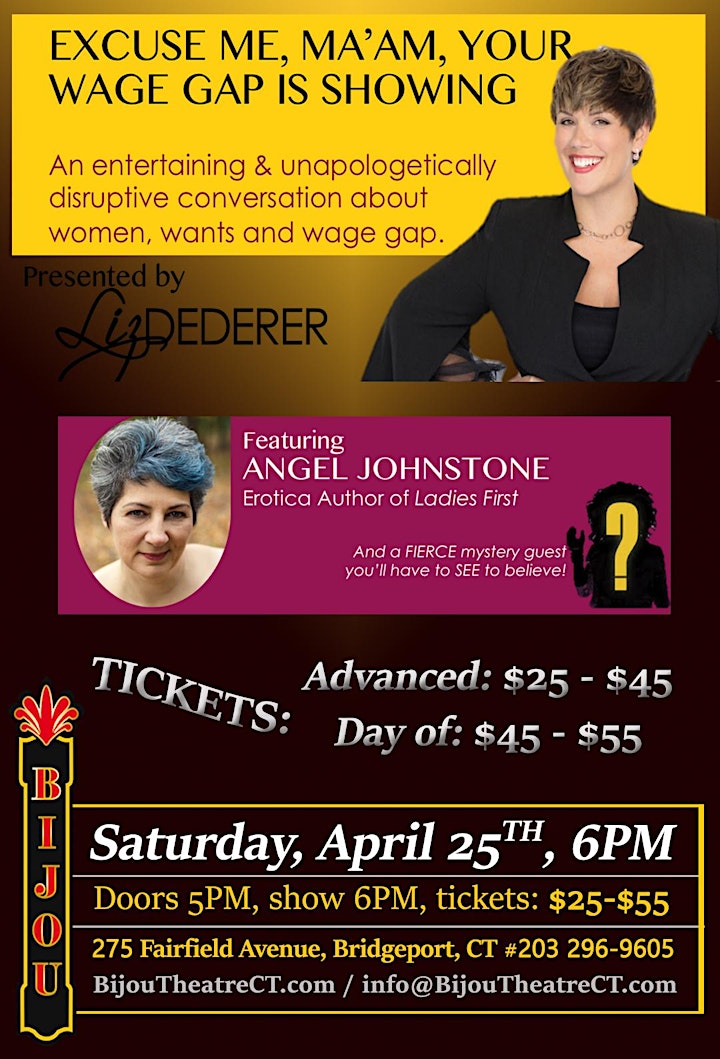 Venue Information:
Bijou Theatre
275 Fairfield Ave
Bridgeport, CT, 06605